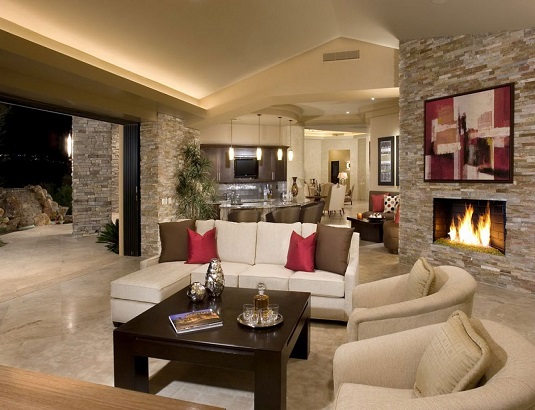 Whether it is after a long and tiring day at the office, or when the nights turn a lot more freezing, the one place we look forward to providing us with all the warmth and take all our exhaustion away is our home. We are aware of how much your home means to you and how much you wish to decorate it to give it a warm and homely glow. Hence today in our article we will share with you a few tips that will help transform your house and its interiors to give you the ultimate warm and cozy feeling!
Bring The Warm Glow To Your Home With Wooden Furnishings: Whether it is the traditional mansions with all their wooden home furnishings and decor or a modern day house with its hard wood flooring and hard wood based furniture, there is almost no competition when it comes to the warm and cozy feeling that wooden furnishings can bring to your home's atmosphere. It may not be possible to change the entirety of your home's theme to make it more wood based, however, that does not mean that adding a few touches of wood based furnishing will make the entire room look absurd and out of space. In fact, adding a Sofa Set Wooden themed, or a wooden coffee table will add more of a relaxing autumn vibe to your entire room.
Give A Special Care To The Fragrance And Lighting Of Your Home: One fool proof way to change the entire mood and theme of your home to give it a more seasonal tone is to update the fragrance of your home. It is advisable to not only look for a fragrance that goes with your home decor but also take into consideration the season you would like to set the ambiance of your room to. For instance, rich and warm scents of amber, frankincense, and bergamot give an autumn vibe to your room.
Lighting is an essential part that brings out the entire mood of your room. Try bringing out and utilizing all the scented candles and table lamps that you have collected over the years but never used to create the ultimate cozy and snug environment in your home. You may also opt for warm LED light bulbs to give your room a touch of warmth and a glow of comfort.
Do Not Take The Difference That Small Additions Can Bring To Your Home: It is important to keep in mind that the ultimate appearance of a room lies not in the big changes but in the smaller details. You can start by adding a big woolen rug to give your room the extra warmth and rich texture. Try keeping the rug a neutral color, as a bright or vibrant colored rug can set off the entire mood of the room.
Next, you may consider adding more layers and accessories such as cushions or throws to give your room a more comfy and lounge feeling. Take into account the color and tone of your home furniture and select contrasting colors for your cushions and throws accordingly to avoid giving off a dull and bland look. Lastly add some brown, caramel, or orange colored beautiful linen curtains so that your room has the ultimate warm and cozy vibes of an autumn evening.
We understand how difficult it can get at times to select proper accessories and decor for your home. Hence we hope that our article helped you out!